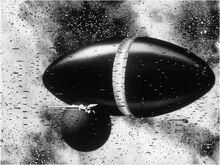 WARNING: THIS PAGE CONTAINS MASSIVE SPOILERS. IF YOU HAVE NOT FINISHED THE SERIES, DO NOT READ THIS PAGE.

[

]
Buster Machine 3 is a superweapon developed by humanity during the war with the Space Monsters and designed to destroy their command brain at the center of the galaxy. Also known as the "Black Hole Bomb", it was a gigantic bomb formed by compressing the planet Jupiter into approximately 1/30000th its normal size and then triggering a chain reaction to create a black hole, and used 3000 slave units placed at a 10,000 light-year radius around the center of the Milky Way galaxy to enhance its destructive power. The bomb's shell was made with the entirety of Australia's landmass. It was constructed in 15 years since the initiation of the final campaign to the galactic core to destroy the Space Monsters. It was capable of warp jumps and was equipped with a barrier generator which was capable of withstanding barrages from Generation 5 ships such as the Eltreum.
Upon activation, it failed to detonate as 2% of its slave generators were damaged in the previous attack, forcing Noriko Takaya and Kazumi Amano to enter it in Gunbuster, rip out one of the mecha's Degeneracy Engines, and use it to start the reaction. This resulted in the two being left alone in space and isolated from humanity for 12,000 years. The explosion destroyed everything in a 10,000 light year radius, and the bomb's remains collapsed into a new supermassive black hole that was designated "Tanhauser 1".
Appearance
[
]
Buster Machine 3 is a 869 km long black pill-shaped object. It has several sublight engines on one of its sides with circular exhausts. After enduring the assault of several tens of thousands of Space Monsters, its surface was filled with craters.