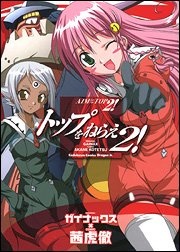 Top o Nerae! 2 is a short manga adaptation of Top o Nerae! 2: Diebuster with art by Kotetsu Akane and a story credited to Gainax.
It consists of four chapters: one full-length chapter and three short spinoff chapters. The manga does not continue until the end of the series, so it appears that the manga was cancelled partway through.
Synopsis
Edit
Chapter 1
Edit
An almost by-the-numbers retelling of Episode 1 of Top o Nerae! 2: Diebuster, skipping the opening sequence.
Chapter 2
Edit
Nono and Nicola have a discussion about robots.
Chapter 3
Edit
Nono and Tycho compete over who will be the pilot of Quatre-Vingt-Dix.
Chapter 4
Edit
Lal'c gets angry with Nono after she spills cocoa on a very valuable book.