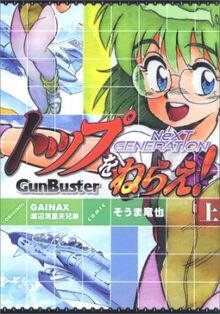 Top o Nerae! Next Generation is a spin-off light novel/manga of the Top o Nerae! series published in March of 2007, with a story by Gainax and manga illustrations by Tatsuya Souma (そうま竜也).
Very little is known about this spinoff, and there is currently no English translation of it, but it supposedly takes place sometime between the years 2050 and 2500 and bridges the gap between Top o Nerae! Gunbuster and Top o Nerae! 2: Diebuster.
Two volumes were published before the series was cancelled.