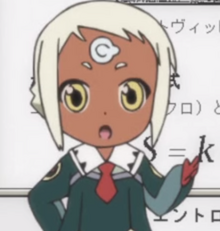 (Not to be confused with the various scenes in which characters are topless.)
In Top o Nerae! 2: Diebuster, the Topless are young people with enhanced mental ability that allows them to pilot Buster Machines. Once Topless reach a certain age, they lose their Topless abilities and can no longer be pilots. They are required to wear seals on their foreheads to contain said abilities when not in battle, and, in some cases, a metal device may be placed on one's head to prevent this rule being broken.
There is no mention of Topless in Top o Nerae! Gunbuster, and it can be assumed that they evolved naturally sometime in the 12,000 years between the two shows. In Diebuster, characters refer to the original space monsters as being like giant Topless, so the human Topless may have evolved as a replacement for the Space Monsters that had been defeated by humanity, possibly taking over the monsters' theorized role as the protectors of the universe.
Scientific Explanation
[
]
The science behind Topless abilities are explained in the Diebuster episode of Gunbuster Science Lessons. Unfortunately, there is currently no English translation of the episode. However, it is apparent that Topless abilities are somehow related to the concept of Entropy.